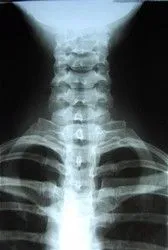 After an examination, your Doctor of Chiropractic may take a series of X-rays. In most cases, they are completed here in our office. Depending on the findings, the chiropractor may call for an MRI or other imaging studies at a nearby facility.
X-rays are invaluable for detecting fractures, tumors and other problems requiring medical referral and treatment. However, X-rays are also taken by the chiropractor to determine spinal posture and overall alignment. It provides a valuable 'blue print' of your spine, allowing the Doctor of Chiropractic to provide the best possible treatment.
There is not a cause to be concerned about radiation exposure. The exposure involved in a short series of X-rays is minimal, often a fraction of a second. X-rays are a non-invasive, pain free, and low-cost diagnostic tool.